Welcome to the Dry Tortugas National Park!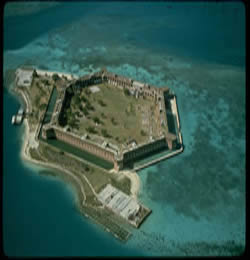 The Tortugas islands are a stretch of seven islands collectively known as the Dry Tortugas. The Dry Tortugas are only accessible by boat or plane and are 70 miles from the nearest city. Needless to say, this makes a trip to theses islands one that requires a bit of planning. The Yankee Freedom Ferry is the easiest and most affordable transportation to and from the island. The ferry departs from Key West at 8am daily and returns at 5pm. Trips to the Tortuga Islands are definitely an all day affair.
The beauty of these islands is present year round, however, due to weather and nesting seasons some areas of the park are only accessible in certain months. The National Park and many of the keys are open year round. The most popular time to visit the Tortugas is in the November through April months. The weather this time of year is most temperate and least likely to have rough seas or storms. The Tortuga Islands are a subtropical climate and will have temperatures varying from 60 to 90 degrees.